"I have orgonia gifted wilderness cabins in the middle of nowhere - no cell phone reception, no electricity, no electropollution to speak of - and still there is a noticeable upward shift in the mood and energy of the place. Orgone is not just about electropollution. It goes deeper than that."
Orgonia is a single man operation started in the summer of 2013 after 5 years of experimentation and feedback making orgonite with unique additives that greatly boost the power and psychological warmth of this amazing material. The "Customer Testimonials" section of the site tells the story. The Orgonia production shop is part of our little farmette near Fayetteville in the beautiful Ozark hills of Northwest Arkansas.

As of December 2014 there have been about 1,000 orders filled - many of them returning customers. The USPS flat rate priority mailing system that delivers anywhere in the US in 2-3 days and just about anywhere internationally in 6 - 10 days has been flawless - no orders lost or misplaced as yet - and just about everything arriving on time and undamaged. Upon shipment the customer receives an email with a list of items ordered, estimated delivery time, and tracking number.
It has been an honor to be a part of the world wide orgonite movement. I intend to be around for a long time making the magic and spreading the word as best I can.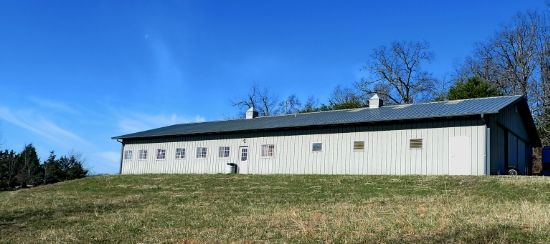 The Orgonia Shop Building. This was originally where I made furniture professionally for 20 years. Everything I did in the past feels like a preparation for what I'm doing now. I feel fortunate to have found my life's true calling while still young (turned 61 this summer.)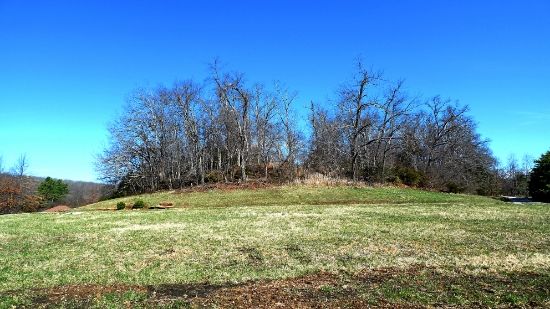 "Orgonia Hill" aka "Hill of Power" immediately behind the shop. This unusual geological formation juts out like a peninsula into the surrounding meadow which wraps around it in a horseshoe shape. Where orgonia is born and cured does matter.

Atop Orgonia Hill looking across the valley below.
Trail to top of Orgonia Hill